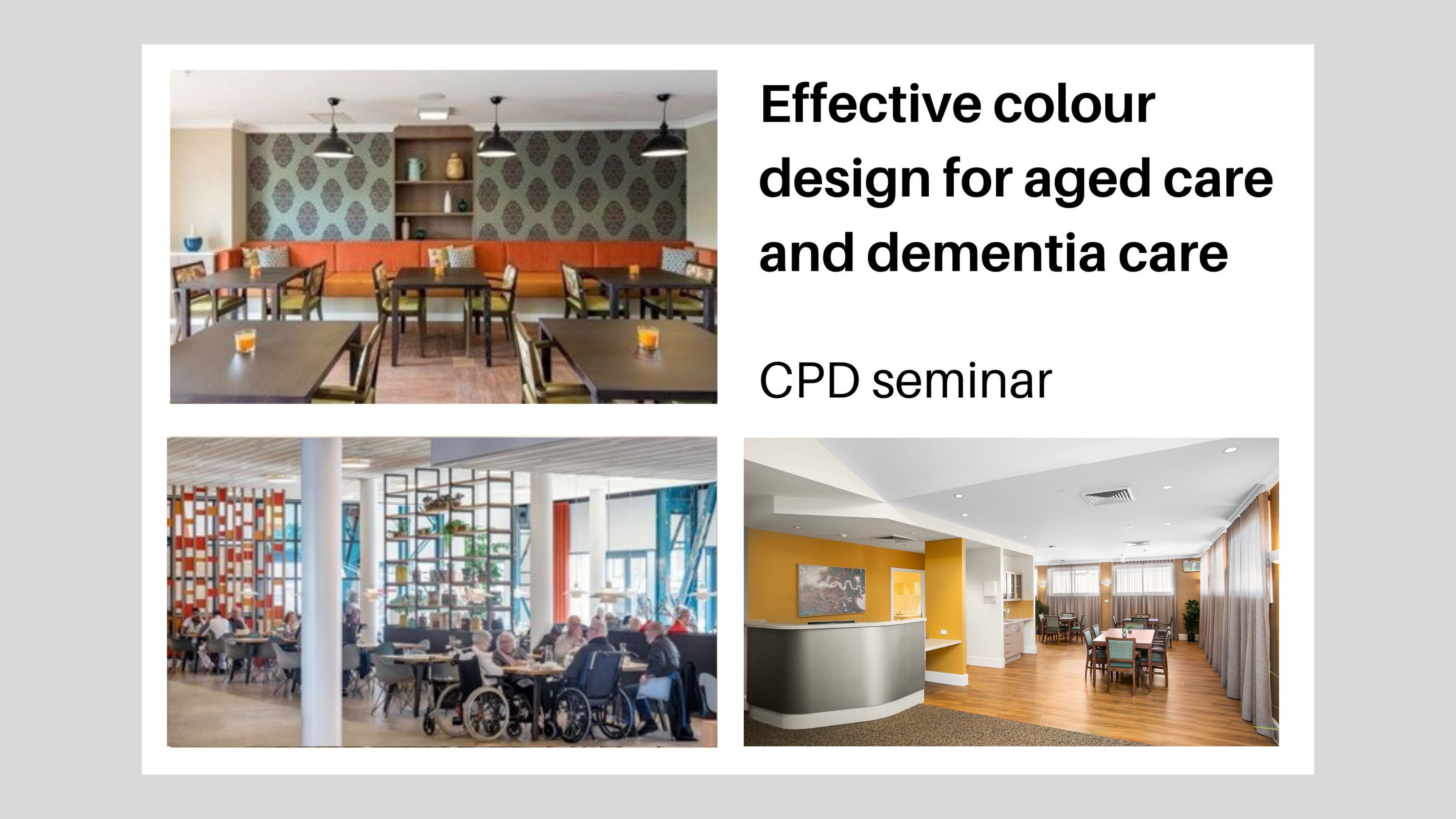 We're excited to present this CPD seminar in conjunction with the Aged Care Industry Association. 
Thursday 16 June - 1:30 to 3:30pm Eastern Standard Time (1:00-3:00pm South Australia and 11:30-1:30pm Western Australia) 
3 Formal CPD points for architects and designers. Bookings - $206-$262 via Eventbrite
Eventbrite: https://www.eventbrite.com.au/e/colour-design-for-aged-care-and-dementia-care-tickets-324457229307 
Colour strategies for healthcare, aged care and dementia care have moved beyond aesthetics. In the past, colour design strategies focused on creating environments that were engaging, harmonious and practical, either in relation to people living in or visiting healthcare environments but more often in relation to key stakeholders or decision-makers. 
While colour design strategies continue to focus on encouraging engagement, this is now just a starting point. In healthcare, aged care and dementia care, evidence-based colour design strategies help to achieve key aims: (1) Address the variable vision capacity and visual challenges experienced by the population in general and in particular older people and people living with dementia. (2) Enhance environmental visual literacy and help improve orientation, wayfinding, and the safe operation of daily activities. (3) Ensure that colour design strategies are underpinned by the imperatives of inclusivity, diversity and user-centred involvement in decision-making and respect for all people using healthcare environments and especially older people and people living with dementia. 
The content of this seminar is linked to the Architects Accreditation Council of Australia (AACA) National Standard of Competency for Architects and addresses the unit of competency of 'Design' and the elements of 'Pre-Design' and 'Conceptual Design'. 
This evidence-based workshop is developed and delivered by Dr Zena O'Connor, The Colour Collective and Design Research Associates in conjunction with the Aged Care Industry Association - https://acia.asn.au/course-list/colour-design-for-aged-care-and-dementia-care/
Zena O'Connor website - https://zenaoconnor.com/