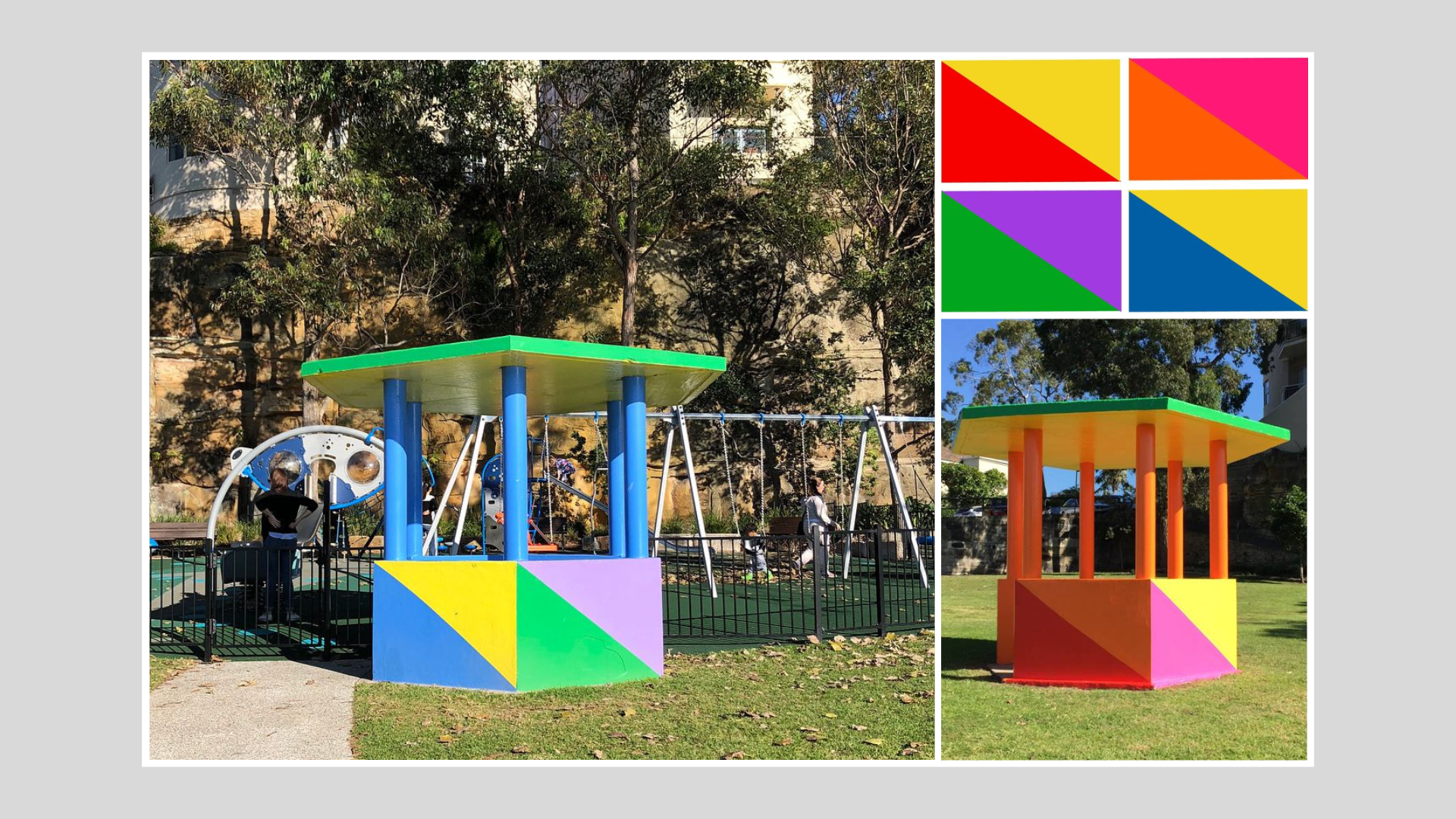 Today is the 6th anniversary of our award-winning community project, which was timed to coincide with Vivid Sydney 2017. The project featured saturated colors in a simple pattern that mimicked the brightly-colored yacht sails on Sydney Harbour.
Research indicates that color can play a key role in transforming and revitalizing the urban environment, and encourages interaction and engagement.
The project won two awards – Resene Landscape Maestro Award (2017) and the Master Painters Association Community Award (2017). See Resene News link.
Designed by Zena O'Connor, the project was made possible by the generous support of key partners: North Sydney Council (Martin Ellis and David Manson), the Master Painters Association NSW and Sydney Harbour Trust (Dr Susan Culverston). The picnic huts were painted by Tom Wood (Summit Coatings), Jayden Olival (apprentice from Decorative Solutions) and Ben Doganer (apprentice from MPA) with the kind help of Zef Olival.
The colour supergraphics design was based on maritime signals ('Oscar') as Sydney Harbour is still a working harbour and sailing is a popular local pastime. Two colour schemes were created, one for each hut and the colours were inspired by red, orange and pink yacht spinnakers,  purple Jacaranda blossoms, blue water and sky, green foliage and yellow sunshine.
The 'Grand Opening' was held on 28 May 2017 and attracted a happy crowd. Feedback was very positive:
"The coloured huts are wonderful and the paint job seems to encourage people to look after them better", Fazeley Read, High Street, North Sydney.
"I can see the picnic huts from my home across Neutral Bay and I love their bright, cheerful colours", Jilly Gibson, Mayor of North Sydney.
© Zena O'Connor - https://zenaoconnor.com/
Color Design Resources - Our mission is to share evidence-based color design information and resources, and make a positive difference by supporting color activations, color-related events, workshops and color awards.